This is the Sinbad adventure story. Sindbad was an old man in the Middle East, when he narrated his adventures to the visitors to his house. He told them how he wasted the great deal of wealth that he inherited and became so poor that he finally set sail on a merchant ship going to the East Indies through the Persian Gulf. They went to Baghdad and then sailed from Balsora, selling their goods at the ports and the towns on the way.
Short Story of Sindbad The Sailor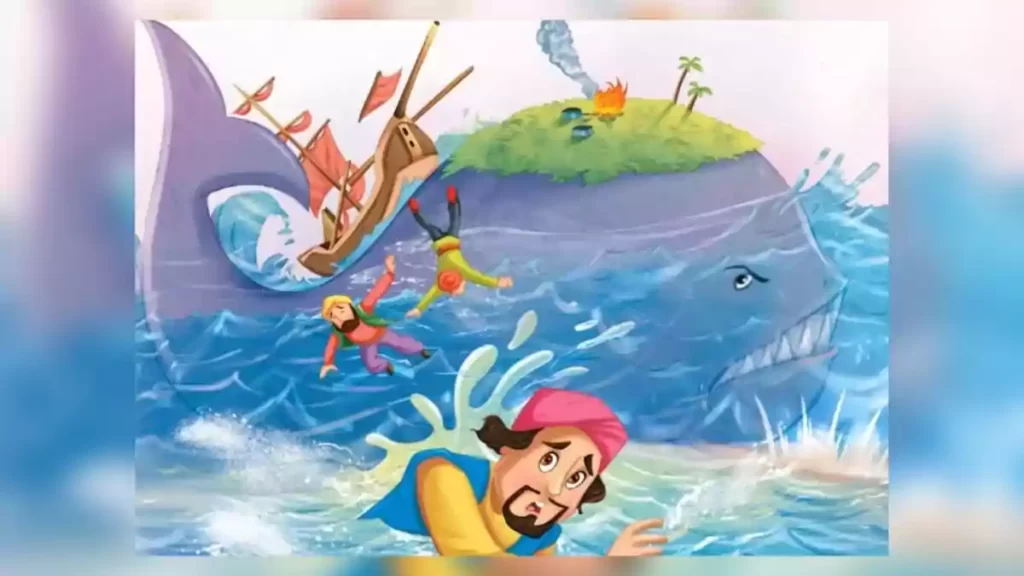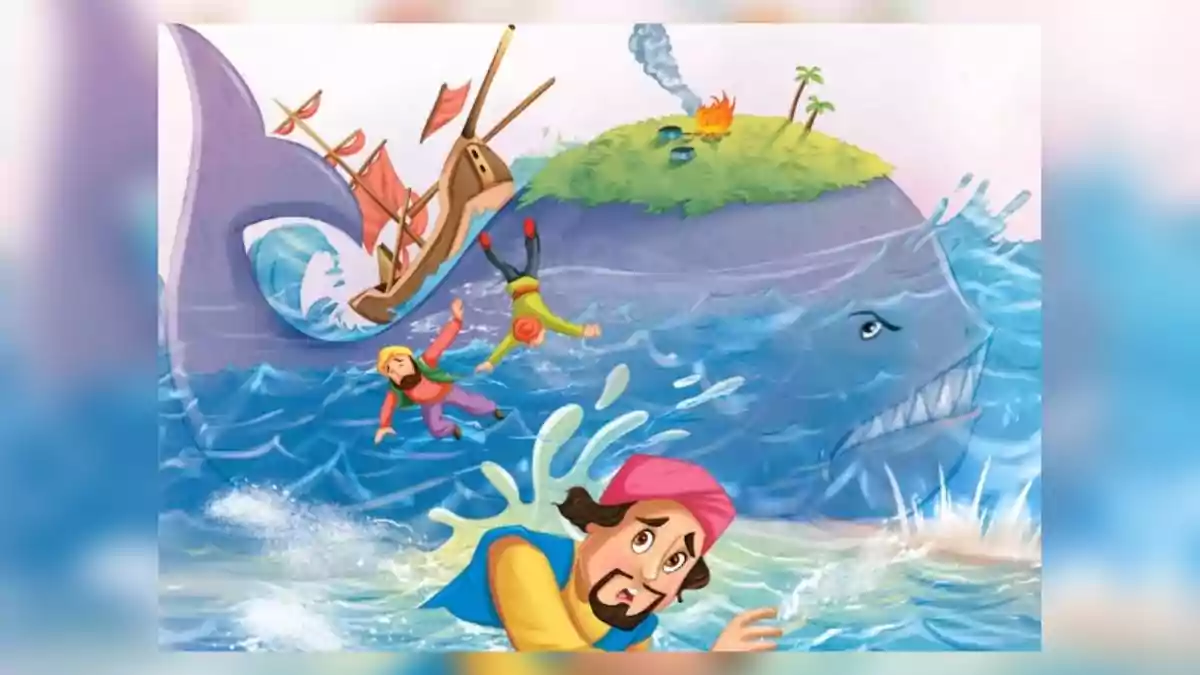 One day, some of them were resting on an island full of greenery, when they saw some of their shipmates signalling to them from the ship.
They were telling them that the island was actually a whale, but they couldn't hear or understand anything. Suddenly, the island moved and they were flung into the sea! Sindbad hung on to a log of wood they had used as firewood as he fell off the whale. He never saw what happened to the others.
Fighting to stay afloat, Sindbad was exhausted when he reached a strange island with steep cliffs. He clutched at some tree roots on the side of the cliffs to pull himself up to the top where he fell asleep on a patch of a grass. He was woken up by the bright light of the sun at noon. Read also Sindbad and Birds Story
Feeling very hungry, he ate whatever roots and herbs he could find and drank from a spring close by. Then, he decided to walk around and explore the place. He heard voices and followed them till he saw a man grazing some horses.
The man explained that he and his friends, who were stable grooms, had brought the horses of King Mihrage for grazing here as they did every year. "We must return to our master tomorrow," he said asking Sindbad to come with them.
The stable grooms took Sindbad to the court in the city, and explained where they had found him. Sindbad was taken to King Mihrage, whom he found to be extremely gracious; he welcomed Sindbad warmly to his court and his island. He made sure that Sindbad was given every comfort and luxury.
Sindbad repaid his courtesy and hospitality by telling him about his adventure. The King found it very interesting and made Sindbad a guest at his palace.
Sindbad soon went around the city to meet merchants from whom he tried to find out how he could go back to his own land. He found strange things too in this kingdom, such as fascinating island called Cassel guarded by a genie named Deggial! He saw so colourful and strange fish that he had never seen or imagined before! It was a strange land, but he longed for home!
Walking around the city, one day Sindbad reached the harbour. He recognised the merchant loading a ship as being the captain of the ship he had sailed in when he ended up on the whale! And he discovered that there were some of the goods he had carried!
The captain recognised him, too, and was very happy to see him alive. Sindbad told him about all the adventures he had and how much he enjoyed seeing new people and places.
The captain was pleased to return all the goods to Sindbad. Back to being a merchant, Sindbad sold much of his merchandise in the city and when he returned home, he was a rich man.
He built a splendid house for his family and had carriages and many servants. The story of his voyage was over and his guests went away after he had given him gifts too.