This is the tree and the woodcutter story. Once upon a time, there was a village named "Ramgarh". A woodcutter lived there. He was very hardworking and lived with his father, wife, and son.
There was a forest near his house. A large mango tree was there in that forest where many birds lived like parrot squirrels, pigeons, etc. with their chick. There was no mango in the mango tree.
Once the woodcutter thought, why not cut this mango tree because if it does not have mango, then it is not for our use. Read also The Honest Woodcutter Moral Story
He thought to cut down the tree so that with mango tree's wood, he could make a study table and a chair for his child.
He took his axe and went towards the mango tree. As soon as he raised his shaft to cut the tree, a bird said, "Don't cut this tree."
Story of Woodcutter and Tree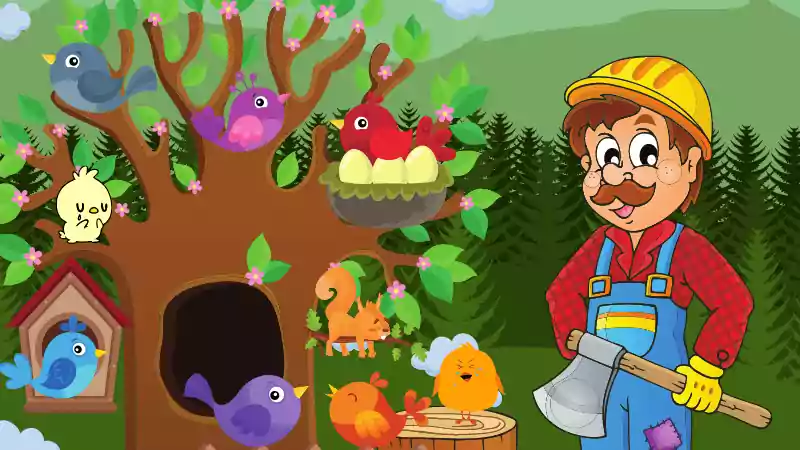 In this tree, we all birds and other animals lived with our children. Our houses were built in this tree.
Read also Story Thirsty Crow
If you would cut down this tree, where will we go with our children?
The woodcutter said, "No, this tree is of no use, I will keep cutting it down."
As the woodcutter started cutting trees, all the creatures of the tree began tweeting.
The woodcutter saw that all the birds and squirrels had small children who were screaming. Seeing all this, the woodcutter felt pity for them, and he said, "No, I cannot cut this tree.
You all have innocent children." I would not cut down this tree.
Hearing all this, all the creatures of the tree became happy and drifted from here to there.
Moral of the Story – Story of Woodcutter and Tree
The Woodcutter and Tree Story tells us that we should also look at the circumstances of others and always have compassion