This is the Beauty and The Beast Fairy Tale. Once upon a time, there lived a kind girl named Belle who lived with her father.
One day, Belle's father asked Belle, "Belle what should I bring back from work?" Read also The Fairy Maiden
She said, "just a single rose."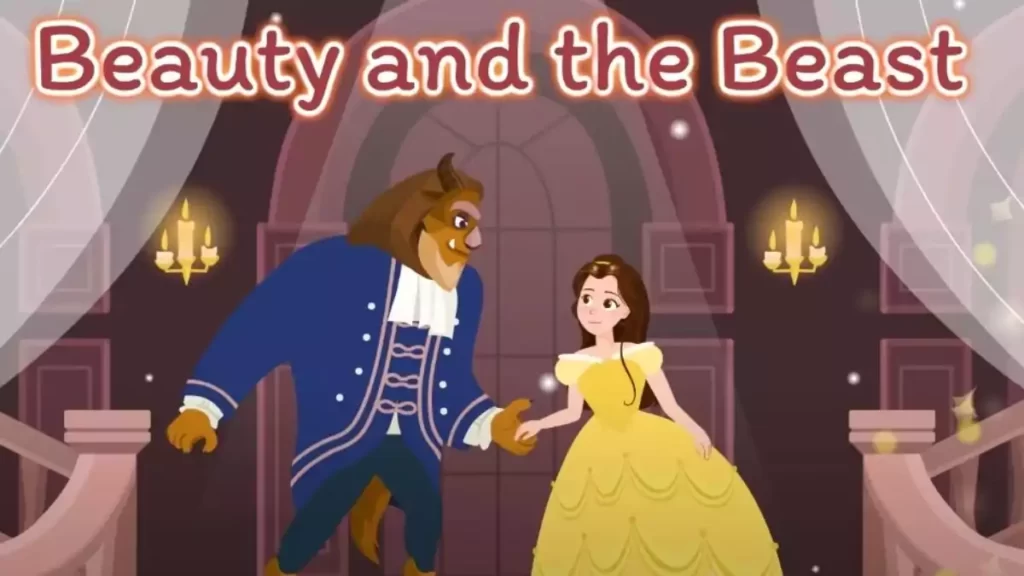 On his way home, Belle's father met a serious storm and landed near a castle.
He went in and ate all the delicious foods on the table. He went outside once the storm stopped in the garden. He saw a beautiful rose and picked it out.
Just then, the Beast appeared. Beast Said," who's taking my precious rose?"
Oh, Belle's father said,"I'm so sorry sir! It's for my daughter!"
"If you want to live bring that daughter, Beast said. You may also like to Thumbelina 
Belle's father came home and told Belle what happened.
Belle had no choice but to go to the castle alone.
Belle was scared of the Beast at first. But as time passed by started to sense his warm heart.
Beast gave her everything she needed – delicious food, many books and beautiful flowers.
They started falling in love. However little by little, Belle started missing her father.
Beast allowed her to visit him one time. Read also Pied Piper of Hamelin
At home, Belle had such a great time with her father.
After realizing that she stayed home for too long, Belle went back to see Beast.
There, She saw Beast passed out on the ground. Regretting not coming earlier, Belle shed tears of love.
At that moment, Beast disappeared and suddenly a very handsome prince appeared. The prince told Belle that he was put on a spell that could only be broken by true love.
Belle and the Prince got married and lived happily ever after.
Below is a visual depiction of one of the most famous stories for kids – "Beauty and the Beast Short Story". See the video story below,
Beauty and The Beast Short Story
Video Credit @Youtube – (English Singsing Channel)