There lived a laborer in a village whose name was Hariram. There was no one in his family. He used to work alone all day long. He was very kind in heart and also very good in deeds. He was a laborer, so he used to get his food only after his wages. There was no one behind him, so he was satisfied with this livelihood.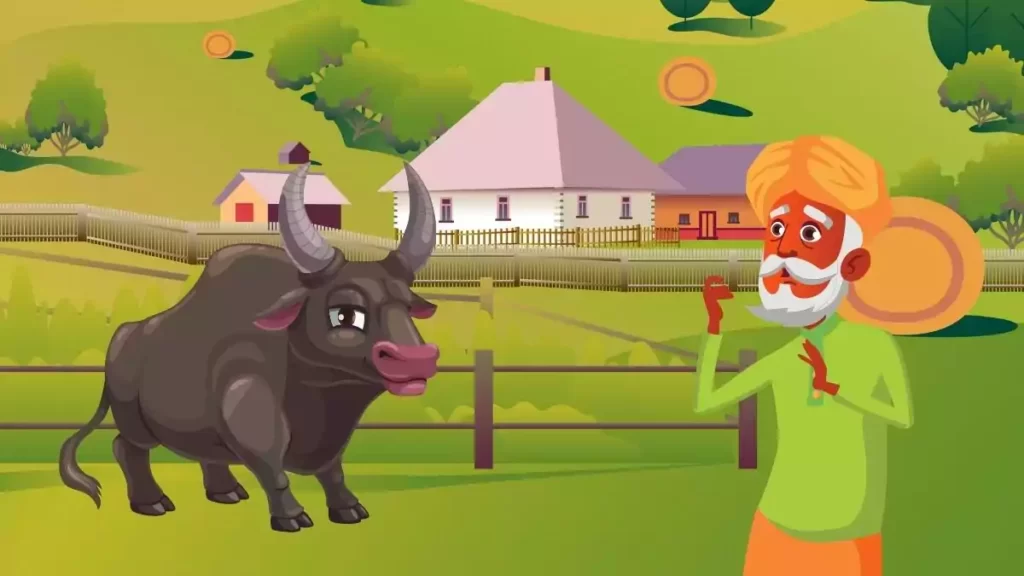 Once, he got a small calf. He happily took him up, he thought that till today he was alone, now he will take care of this calf like his own son. Hariram's day would start with his calf and end on it, he would serve him day and night and talk to him about his mind. After some time, the calf became a bull. The service that Hariram did to him had made him very beautiful and powerful.
All the people of the village used to talk only about Hariram's bull. The farmers' village was full of bulls, but Hariram's bull was different from them. People came from far and wide to see him. Everyone was talking about Hariram's bull.
Hariram also loved his bull like a son, even if he himself went to bed hungry but always fed him. One day in Hariram's dream Lord Shiva's Nandi bull came, he told him that Hariram you are a selfless servant, you have troubled yourself. I have given the power to speak to your bull. Hearing this, Hariram woke up and went to his bull. He caressed the bull and smiled that how can a bull speak, then suddenly a voice came, Baba, you have taken care of me like a son, I am grateful to you and want to do something for you. He hugged the bull. From that time, he started calling his bull as Nandi. He comes after working all day and talks to Nandi.
Nandi was very much affected by poverty, Hariram used to give full stomach to Nandi but he himself used to sleep hungry, Nandi did not like this thing, he asked Hariram to go to Merchant of the city and put a condition that his bull Nandi can pull the cart. And take thousand coins from Merchant as a condition. Hariram said Nandi, you have gone mad, even a bull can bear such a load, I am happy with my life, I should not do this, but on repeated requests of Nandi, Hariram had to obey him.
One day, in fear, Hariram reached Merchant Deendayal's house. Deendayal asked him the reason for coming, then Hariram said about the condition. Merchant started laughing loudly and said that Hariram has become like a bull by staying with the bull. if you lose the bet, then you may also lose your hut for giving back thousand coins. Hearing this, Hariram became more frightened but could not even turn back on what came out of his mouth.
The day of the bet was fixed and Merchant Deendayal informed the villagers about this competition by beating drums in the entire village and called everyone to see this wonderful sight. After hearing the news, all villagers started making fun of Hariram and started saying that only Hariram will lose this condition.
Hearing all this, Hariram started hating Nandi and started blaming him again and again and said that why I kept this bull? I was living well and now I will lose the bet and my hut also. Now Hariram was not liking Nandi at all.
The day arrived when the competition was to be held. Nandi was plowed in front of a hundred goods carts and Hariram himself sat on the cart. All the villagers were laughing seeing this sight and were saying bad things to Hariram. Hariram said to Nandi, see how much I have to listen because of you, I raised you like a son and you did the work of bringing me on the road. Nandi got angry because of such disgusting words of Hariram and he was determined that he would not take a step forward and thus Hariram lost the bet. Everyone made fun of him and he had to give his hut to Merchant.
Now Hariram was lying outside the temple with Nandi and was cursing and crying in front of Nandi, hearing his words, Nandi could not bear it and said Baba Hariram, all this happened because of you. Hearing this, Hariram was shocked, he angrily asked, what have I done? Have you eaten cannabis? Then Nandi said that because of your words of love, God gave me the power to speak. And I thought of doing all this for you, but you started cursing me and saying bad things to me, then I decided that I will not do anything for you, but now I tell you again that I can pull the carts so you can go again bet and this time bet your hut and a thousand coins.
Hariram does the same and again according to the condition Nandi is plowed on it after preparing the carts and again Hariram sits on it and affectionately asks him to pull the carts and this time Nandi shows this which everyone is shocked to see and Hariram wins the bet. Merchant Deendayal gives him his hut and a thousand coins.
Moral of the Story – Words of love Short Story
One can be conquered only by love in life. It is said that even God bows down in front of love, so everyone should speak only words of love.