As we have read in Story – 1, Indra gave curse to Punjikasthala and Adrika after that we are continuing story below.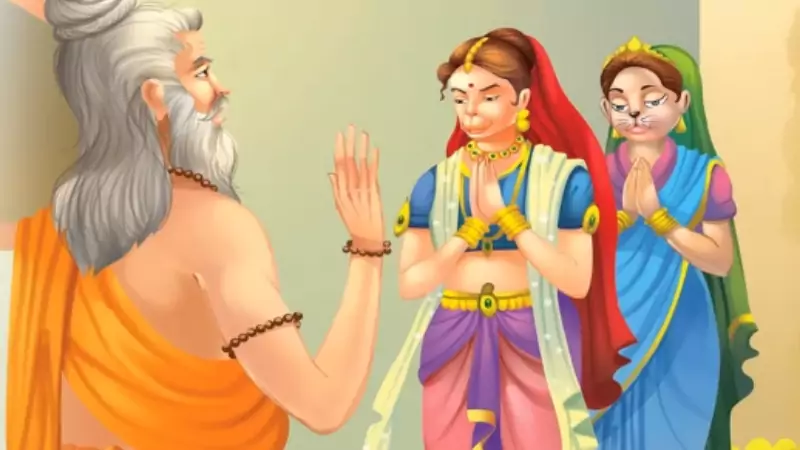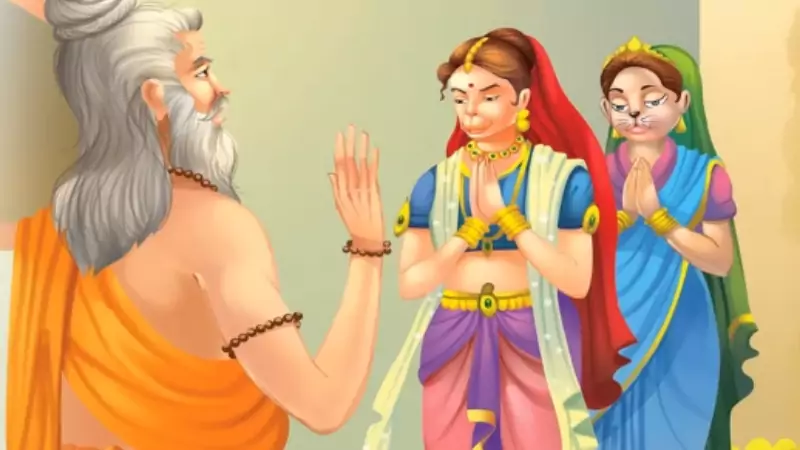 Anjana Born as Monkey
After some time, Punjikasthala and Adrika took birth as the twin daughters of a vanar king named Kunj.
Kesari, another famous king of the vanar race, married both Anjana and Adrika when they grew up.
Kesari was highly religious. He often used to sit deep in meditation at the southern seashore.
One day, sage Agastya paid a visit to his kingdom. As usual, Kesari was meditating.
Anjana and Adrika welcomed the sage and played perfect hostesses to him. Delighted with the wonderful food and hospitality, the sage decided to grant any wish they had.
Both of them desired a son each. Anjana asked for a strong and powerful son, who would dedicate himself to the welfare of the entire universe.
Sage Agastya granted the wishes of both of them. No sooner had he granted the boon than he realised that Lord Shiv, himself, was going to take an incarnation as Anjana's son.
Birth Of Hanuman and Adrika
Anjana was asked by sage Agastya to perform meditation on hill Venkatadri situated on the banks of Akash Ganga. This place in Vrishabhachal was the most suitable place for her to get her desire fulfilled.
The sage said to Anjana, "Lord Shiv is going to be born to you. He will be as mighty as the Wind-god. So, start praying to Lord Shiv."
One day, while Anjana was engrossed in deep worship, the Wind-god appeared and said, "Devi, I am pleased with your devotion. You will get a magnificent son.
My strength and speed will be his too." Having said so, the Wind-god infused his powers into mother Anjana.
In due course, Anjana was blessed with a child, Hanuman. Adrika, too, gave birth to a child, who was named Adri. This child of Adrika went on to become the governor of dwarfs.
Punjikasthala's Mistake
There is yet another story about Hanuman''s birth. Punjikasthala liked to roam the skies. While wandering in the heavens, she once saw a monkey sage engrossed in deep meditation.
The sage sat cross-legged for his prayers. This posture appeared very funny to Punjikasthala and instead of respecting the sage's dedication she started laughing loudly.
The sage continued his worship. He was deeply immersed in his meditation and did not respond, as he was unaware of anyone laughing at him.
Misunderstanding his unresponsiveness, she began throwing stones and fruits at him. The sage's meditation was interrupted by a stone hitting his head.
He instantly opened his eyes and looked around in anger. He spotted Punjikasthala about to throw another stone at him. The sage bristled with anger.
Punjikasthala trembled as she saw the furious sage approach her. Instantly, she let go of the stone and looked, dumbfounded, at the sage.
Curse on Punjikasthala
The enraged monkey sage glared at Punjikasthala and asked, "Why were you throwing stones at me?" Punjikasthala just gaped at the monkey sage. "Do you know that you have committed a big mistake by interrupting my meditation?" the monkey sage asked again.
Punjikasthala still could not speak, so she stood there staring at the sage. "You think my appearance is funny because I look like a monkey. I curse you to be a monkey from now on!" the sage exclaimed.
Punjikasthala was remorseful and begged for mercy at once. "O great sage! I made a terrible mistake. I didn't know who you were. I should not have thrown stones at you. Please forgive me! Please release me from this curse!" she said, with tears in her eyes.
The monkey sage realised that Punjikasthala was genuinely repentant.
But as he was a sage, his curse was very powerful. Once uttered, it could not be taken back.
If you haven't read previous part then Lovely Lord Hanuman Tales(Part-1)