Board exams are about to come. During board exams, Parents do a lot for their children to overcome board exam stress and keep their mind calm. Every student is busy in covering each and every topic of the syllabus. There are many topics still pending to cover before the exam for students.
During exam preparation, most students face stress and anxiety, leading to depression and mental stress. Students need to understand how to keep their mind calm during exams.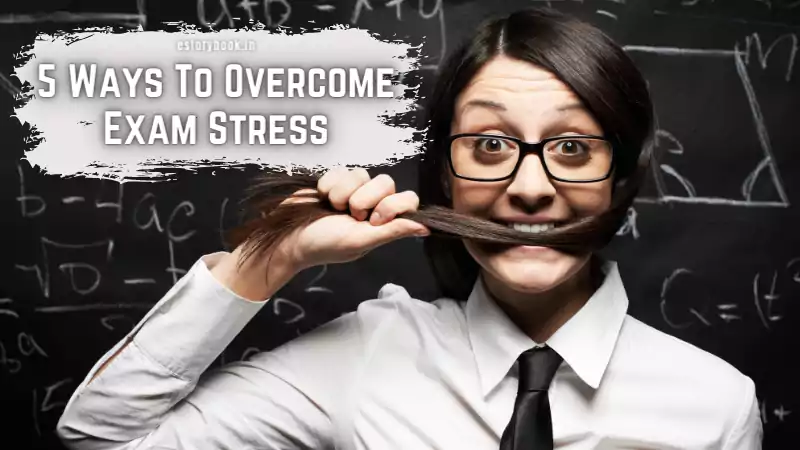 Examination time is a very crucial time for students and parents to give more focus towards their children so that they can overcome board exam stress. Mothers cook delicious dishes for their kids to make them happy and stress-free.
Every parent fulfills all the children's wishes during board exams to reduce exam stress and anxiety. It doesn't only help students to keep their mind calm and stress-free but also increase their concentration and motivation.
If you are a student, then proper diet, regular exercise, and study planning can help you stay calm during exam preparation. There are below 5 Ways to overcome board exam stress, which can help you keep your mind calm during board exams and make your preparation more effective.
5 Ways to overcome board exam stress
1. What is an effective study plan to overcome board exam stress?
Planning is the key to success. Before picking up a book to study, you should prepare a well-organized study plan. You should take a note-book and write down a list and allot time to each subject every day.
List out the time to be assigned to each subject daily and sort down the priority topics to study. The study plan should also involve break time where you can play outdoor games or devote some time to your interests or hobbies like listen music.
You should stick with your study plan so that you will not be panicked when the exam approaches near.
2. What to eat during board exam time to reduce test anxiety?
Healthy food always helps in improving the body and results in more energy. During exam time, You should avoid unhealthy food and snacks like pizza, burgers, or other fast food, leading to sleepiness, sickness, dullness, and fatigue. 
It would be best to increase the intake of fresh vegetables and fruits during the board exams as it will make you more focused and energetic.
You should avoid sugary foods and try walnuts, eggs, yogurt, and dried fruits. These foods are rich in protein, improving memory retention, boosting energy and mental alertness.
Keep yourself hydrated, as drinking water will keep your mind calm and active during exams and protect you from fatigue and tension.
3. Preparation of notes
When you are studying the subjects, it would be good to prepare the notes to have a hold to read only the important topics during revision just before exams. It is the best way to keep you doing a proper revision of topics before exams.
You can draft notes in bullet points which you will find interesting during revision and can remember priority topics in less time.
4. Take well sleep
How many hours of sleep do you need before an exam? It is the question of every student and parent during exam days.
Proper sleep plays a vital role in boosting your energy level and improves your focus. Deep sleep of 7-8 hours can make you stay cool and reduce test anxiety and exam pressure.
Lack of sleep during exams can tire you and reduce attention towards exam preparation. Improper sleeping during exam time may negatively impact your brain as it will be harder for you to remember new topics.
You should take a sleep of at least 7-8 hours, which can help you feel fresh throughout the day.
It is advisable to go to bed early instead of studying late at night and wake up early to study at around 6 am. If you wake up fresh, it will sharpen your memory and you can remember more new topics.
5. Exercise and Meditation to overcome board exam stress
You should not only devote your time to study throughout the day but break time should also be taken into consideration. Breaks are necessary to keep you active for exam preparation.
If you feel board exam stress then you can do light exercise and meditation.
You should take 15-20 minutes from your schedule for exercise, which can involve walking or riding a bicycle to eliminate anxieties and board exam stress.
You can also take the support of Yoga. Meditation and Deep breathing before a test help achieve the state of a calm mind and lead to overcome board exam stress.
Conclusion
Board exams are the way to identify your level of understanding the things. You should keep the broad exam as a celebration and enjoy each and every moment. You don't need to panic from exam fear as It's natural. If you properly plan the study and make proper notes, it will help in revision and simultaneously save your time and energy.
You should keep your focus on a balanced diet, exercise, mediation, and sleep well to keep you relaxed and positive always.
If you have faced any challenges during your exam and have some suggestions on "how to keep mind calm during exams? Please comment below so that readers can take help to overcome the exam stress. If you find the article relevant, then please share and like.