The Panchatantra story name is The Ungrateful Lion Story where a lion who lives in the forest of Panchatantra. One day, Lion was looking for food in the forest.
A lion was locked in a cage. He pleaded with passersby to open the cage.
Hearing his plea, the Panchatantra people would feel sorry for him, but no one would dare to open the door. Read also The Lion and The Cows Story
One day, a very upright and nobleman who was working in the king's palace, passed by. The lion pleaded with him, "Please open the cage. I will never forget your kindness."
The man opened the cage out of pity for the lion. As the cell opened, the lion came out of the cage and said, "Now I will eat you."
The man said, 'I have never heard of a man who does good to be killed.'
Read also Lion and Deer Short Story
The lion said, 'This is a law of nature. Only the man who does good first has to pay the penalty. '
The man said, 'We leave the decision to the three witnesses. If they had the same opinion, you would have eaten me.'
The lion said, 'All right! Take me to your three witnesses.'
The man first took the lion to a pheasant bird and asked him, "Should a benefactor be punished or rewarded for doing good?"
"I protect the farmers' fields, but the farmers still try to kill me," said pheasant. So I don't think a man who does good should ever do good.'
Then the man led the lion to a Banyan tree and said, 'This is my second witness.' The same question was asked to Banyan.
Banyan said, 'Panchatantra Kids sit under my shadow, but breaks my leaves and also takes out my milk. So no one should do good to anyone who does good. '
Read also Lion and Mouse Story
At that moment, the wolf came. He was very clever. He said, "I don't understand what really happened." The lion was coming this way and this man was locked in the cage or the man was coming this way and the lion was locked in the cage.'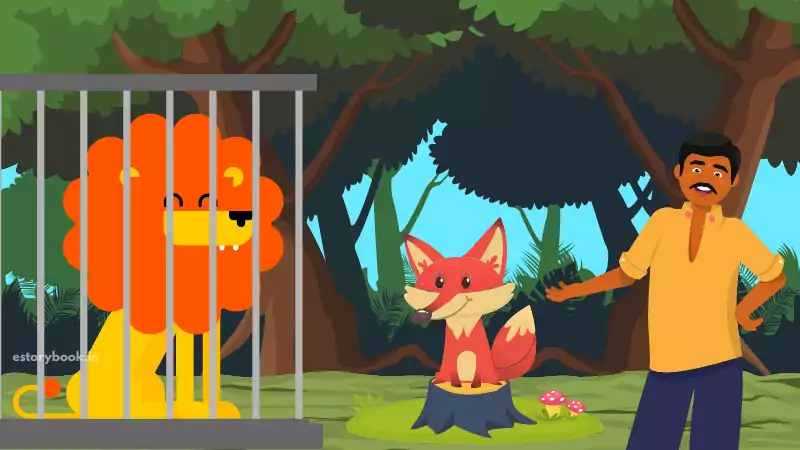 The lion wanted to explain the real thing to the wolf and said, 'I was locked in this cage-like this.'
Saying this, the lion entered the cage again, and the cunning wolf immediately closed the door of the cage from outside and looked at the man and said, 'Never trust any deceiver.'
Go from here, the palace will be waiting for you.
The man thanked the wolf for saving his life and went to the palace.
Moral of the Story – The Ungrateful Lion Story | Never be Ungrateful Story
We should always be thankful to the person who helps us. If we are not grateful to those then danger may come upon us.