Silappatikaram," also known as the "The Tale of the Anklet," is one of the five great Tamil epics from ancient India.
Once upon a time, in a faraway land called Tamil Nadu, there lived a happy couple named Kovalan and Kannagi. They loved each other very much and lived in a city called Puhar.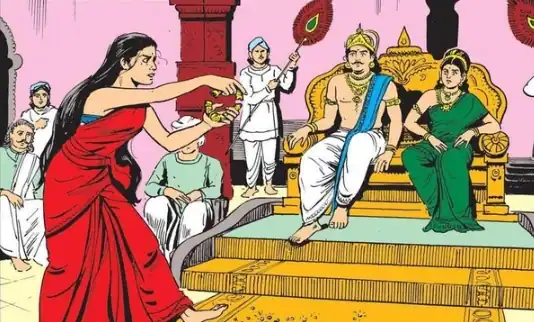 One day, Kovalan met a beautiful lady named Madhavi, who was like a movie star of those times. He got so fascinated by her that he spent all his money on her and forgot about Kannagi. But after some time, Kovalan realized his mistake and came back to his loving wife, Kannagi.
They decided to start fresh in a new city called Madurai. But trouble followed them. In Madurai, the queen's valuable anklet went missing, and the royal jeweler blamed Kovalan for stealing it. Even though Kovalan was innocent, the king didn't believe him and ordered him to be executed.
Kannagi couldn't bear to see her innocent husband die. She went to the royal court, with one of her breasts uncovered, showing a magical anklet that looked just like the queen's. She proved that Kovalan was innocent and that the real thief was the jeweler.
But it was too late. Madurai, because of the injustice, was doomed to burn. Kannagi was heartbroken by her husband's death, and she cursed the city. Her curse caused Madurai to catch fire, and the city was destroyed.
Kannagi then returned to Puhar, where she became known as a symbol of love, justice, and a woman's strength.
So, the story of Silappatikaram teaches us about love, justice, and standing up for what's right, even in the face of great challenges. It's a tale of a brave and devoted wife who did everything she could to save her husband.