This is the The elephant and the mice story. An elephant was sleeping soundly. He was snoring loudly.
Hearing the sound of snoring, a mouse came out from the nearby burrow.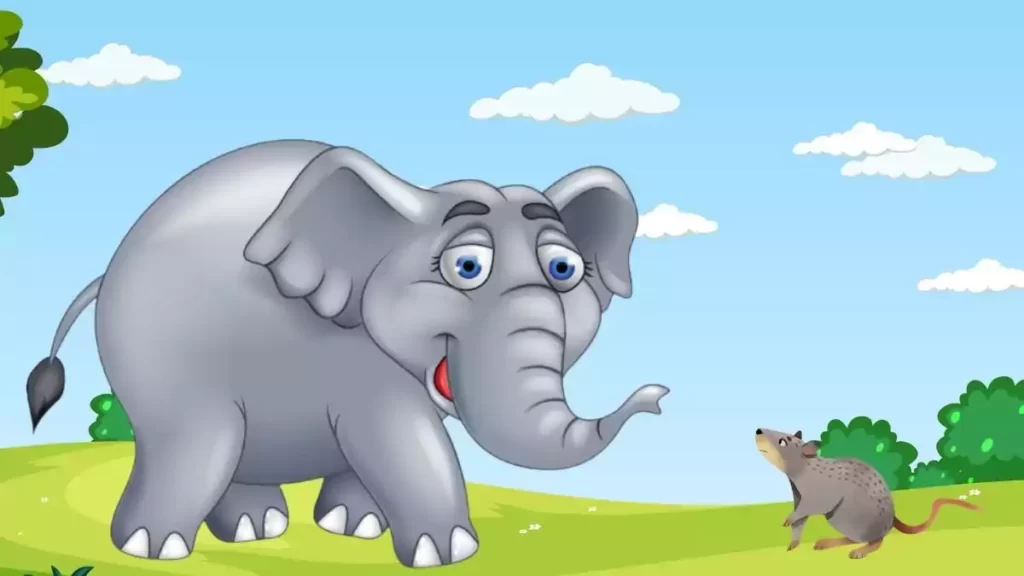 He saw that a mountain-like elephant was sleeping in front. His big stomach was moving up and down due to snoring.
The mouse was very happy to see this. He slowly climbed up his trunk and reached his stomach. Sitting on the stomach of the elephant, he started swinging.
Up and down, up and down, it was a lot of fun. Then the elephant woke up. He got very angry seeing a small mouse sitting comfortably on his stomach.
He shook his stomach vigorously. The rat fell down. The elephant said – Stupid mouse, how dare you climb on my stomach?
The mouse got scared. Started apologizing. Said to the elephant, please forgive me. Such a mistake will never happen.
The elephant took pity on him. He let the mouse go. While leaving, the mouse said, tell me whenever you need me.
You are so good that's when you left me. I will always be ready to help you. well goodbye.
The elephant started laughing loudly after listening to the mouse. The mouse left silently.
A few days later, a hunter came to the forest. The mouse had seen him. He had a lot of stuff.
It seems that it is going to stay in the forest for many days. The mouse thought.
The next morning, the rat woke up after hearing a loud noise. It sounds like the sound of an elephant. He thought.
When the sounds of 'Save-Save' came several times, the mouse reached near to place from where sound of help was coming.
When I looked in front, the same elephant was standing. A big net was lying over them, from which they could not get out.
The mouse greeted elephant. Then he started cutting the net with his sharp teeth. He was working very fast.
In no time, there was a big snag in the net. The elephant came out from it. Now he understood that even small things sometimes turn out to be big things.