This is The Ant and The Dove Story with Pictures for kids. Once upon a time, An ant was very thirsty during the summer. She was looking for water to satisfy her thirst. After searching around for some time, she reached a river.
There was water in front of her, but she could not go straight to the river to drink water, so she climbed on top of a small stone. Read also The Ant and The Grasshopper Story
But, as soon as she moved to drink the water, she fell down into the river.
Ant and Dove Story in English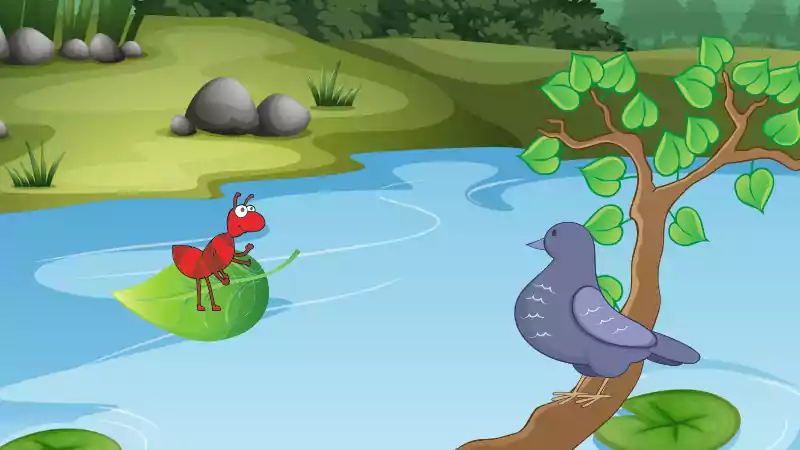 There was a tree on the bank of the same river. On the branch of which a dove was sitting.
He saw the ant falling in the water. The dove felt pity for her and tried to save the ant.
The dove immediately plucked a leaf from the tree and threw it near the struggling ant in the river.
The ant reached near that leaf and climbed into that leaf.
After a while, the leaf came dry floating on the river bank.
The ant jumped from the leaf and got down. The ant saw a branch of a tree where a dove was sitting and thanked him for saving his life. Read also Pigeon and Rat Story
A few days after this incident, one day.. a hunter reached that river bank and near the nest of that dove, he set a trap and put grain in it.
He hid nearby bushes and hoped that he would catch the dove.
As soon as the dove saw the grain in the ground, it came down to eat it and got caught in the hunter's net.
The ant was there nearby and saw the dove trapped in the net. The dove was unable to get out of that net.
The hunter caught the dove's net and started walking. Then the ant thought of saving the life of the dove and went fast and bit the hunter's leg.
Due to severe pain, the hunter left the net and started looking at his feet.
The dove got this opportunity to get out of the net and he flew away from the net fast. Read also Elephant and Ant Story
Moral of the Story – The Ant and The Dove Story with Pictures
Whenever you get a chance, help others without any selfishness