( Holi Festival 2021 Celebration, Holika Dahan history, Prahlad story, Hiranyakashipu facts,  In Hindi)
India is a country of festivals, people of different castes celebrate different festivals with great enthusiasm and one of these festivals is "Holi". 
Generally in India, Festivals are celebrated according to Hindi Panchang. In this way, Holi is celebrated on the full moon of Falgun month. This festival is considered to be the festival of reception of the spring season.
This year, the festival of Holi in 2021 will be celebrated on 29 March 2021.
| Important Information | Dates and Time |
| --- | --- |
| Holi Date | Monday 29 March 2021 |
| Holika Dahan Date | Sunday, March 28, 2021 |
| Purnima Tithi Begins | 03:27 AM on March 28, 2021 |
| Purnima Tithi Ends | 12:17 AM on March 29, 2021 |
The Story of Holi and Why is Holi celebrated in short? (Mythological Story of Holi)
In India, Each festival has its own importance and religious beliefs of the people. There is a also story behind Holi Festival as well. There was a king named Hiranyakashyap, who considered himself to be the most powerful, so he hated the Devtas(Gods) and did not like to hear the name of Lord Vishnu who is the God of Devtas, but his son Prahlada was a passionate devotee of Lord Vishnu.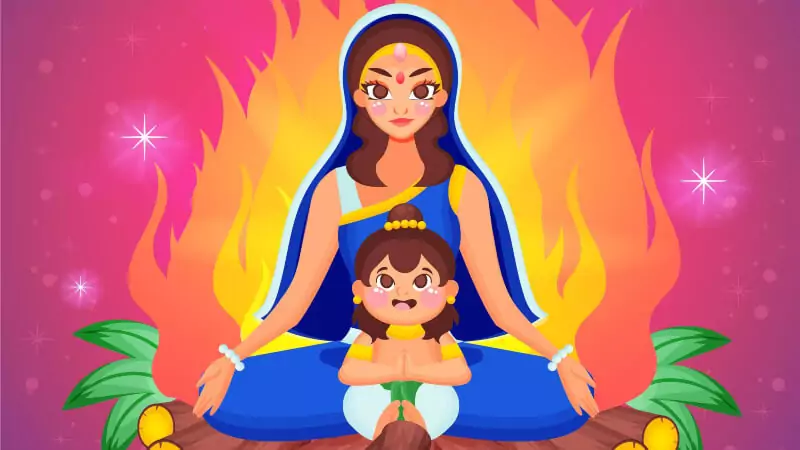 Hiranyakashyap did not like this thing, he used to scare his son in many ways and prevent him from worshiping Lord Vishnu, but Prahlada did not listen to one, he was in the devotion of his God. One day Hiranyakashyap decided to kill his son and he came up with a strategy.
According to which he asked his sister Holika (Holika had a boon, that she has victory over the fire, she cannot burn the fire) with Prahlada sitting on the fire. Prahlada sat on fire with his aunt and started chanting the name of his God. Then suddenly Holika started burning and Akashvani(voice from sky) started, according to which Holika was reminded that if she misuses her boon, then she herself will be burnt to ashes.
The fire did nothing with Prahlada but Holika was burnt. Similarly, people celebrated that day with joy, and today, that day is celebrated in the name of Holika Dahan, and the next day, they celebrate this day with colors.
The festival of Holi is celebrated all over India, but it is celebrated more enthusiastically in North India. People visit places like Braj, Vrindavan, Gokul to see the festival of Holi. In these places, this festival is celebrated for many days.
There is such a practice in Braj, in which men paint colors on women and women beat them with sticks, it is a very famous practice, which people go to North India to see.
Holi of flowers is also celebrated in many places and everyone plays each other with songs and celebrates happiness.
Rang Panchami is more important in central India and Maharashtra , people make a team, go to each other's house with colors, gulal(color power made with rose flower) and paint each other and say "Bura Na Mano Holi Hai".
In the Indore city of central India, Holi has a different tone, it is called the "non" of Rang Panchami, in which the entire city of Indore comes together and enjoys dancing and dancing. 
This festival of Rango(colors) is also called the "Falgun Festival", in which old songs were sung in the language of Braj. Cannabis Paan is also a special part of Holi. After getting drunk, everyone embraces each other and forgets all the grievances, and sings and dances with each other.
Many dishes are made in homes on Holi. In our country full of taste, People like to drink a traditional drink called "Bang" and special dishes like Guziya (made of Maida and Sooji) are made in every festival.
What precautions should take while playing Holi?
Holi is a festival of colors, but it is important to celebrate it carefully. Nowadays, due to the adulteration of color, many have to face loss, so it is only right to consider Holi with Gulal.
Also, mixing of other intoxicants is also common in cannabis, so it is very important to avoid such things.
The risk of eye disease is also increasing due to the use of the wrong color, so avoid using chemicals with mixed colors.
Before eating any item made outside the house, think the danger of adulteration increases more in the festival.
Carefully paint one another, if someone does not want, do not force them. Fighting has also started increasing on festivals like Holi.
It is the day to express love with colors.
It is a time to show affection.
May all the colors that are on you are of love!
Wish a very happy and colorful Holi to you and your family.