Hello friends!! Today again we are with a new "The Lion and The Mouse Story with Pictures". Please enjoy the lion and the mouse full story with pictures with your kids. Happy Reading!!
This was a time of long ago, there was a dense jungle. The Lion and the Mouse lived there with all the other animals. These were the times of summer and a Lion was resting after hunting the animal. Read also Lion and Deer Short Story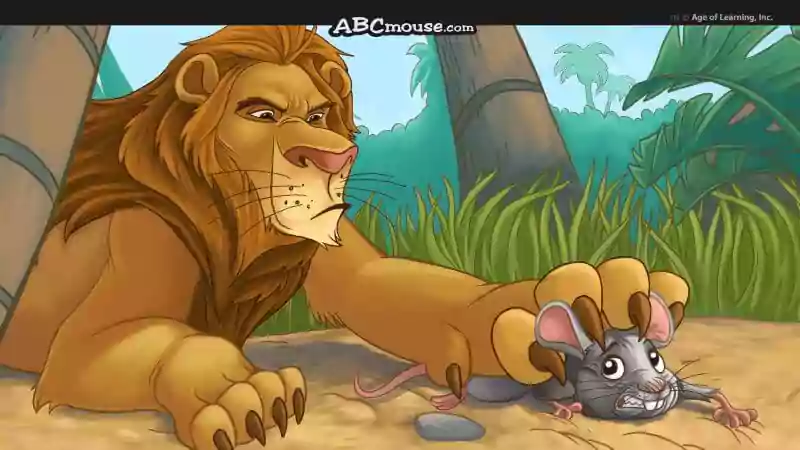 A Lion went to deep sleep. A Mouse came to the Lion and started playing around a Lion.
The Mouse was making a lot of noise while playing. Suddenly The Lion was disturbed and came out of sleep.
The Lion got angry when he saw a Mouse playing around him and making noise. He got up furiously and caught up with the Mouse and tried to punish the Mouse by eating.
Read also Ungrateful Lion
The Mouse was so scared when he was caught up by the Lion. The Mouse was requesting from the Lion to leave him and he would help him whenever he would be needed.
The Lion looked amusingly at the Mouse and thought about how he could help me. The Lion had left him and said you would not play here.
One day a hunter spread the net near the lake where usually animals used to come. The Lion was garbed in the hunter's net.
The Lion was in fear and tried hard to come out of the trap. The Lion was trying hard to free himself from the net.
The Lion was roaring angrily. The Mouse was just crossing the way and the Mouse heard the Lion roaring with pain and found the Lion tackling hard in a trap. Read also The Lion and The Cows Story
The Mouse ran towards the Lion and started to nibble the net with his sharp teeth. Soon the Lion released from the net and took a relaxing breath. 
Lion said THANK YOU!! My Friend and both Lion and Mouse escaped from that place…
Moral of the Story – Lion and Mouse Story with Pictures
Everyone has their own skills and talent. Never underestimate anyone
Below is the visual interpretation of Lion and Mouse Story with Pictures
The Lion and The Mouse Story with Pictures