How did the Kangaroo Got Its Tail is the story of 2 kangaroos. This is the story from past Dreamtime, where two kangaroos were living in the country which is also known as Australia in present.
One kangaroo, from plains, was big and brown in colour. He had very long arms and lengthy legs. On the other hand, Kangaroo from hills was grey in colour. He had a small built and short arms and legs.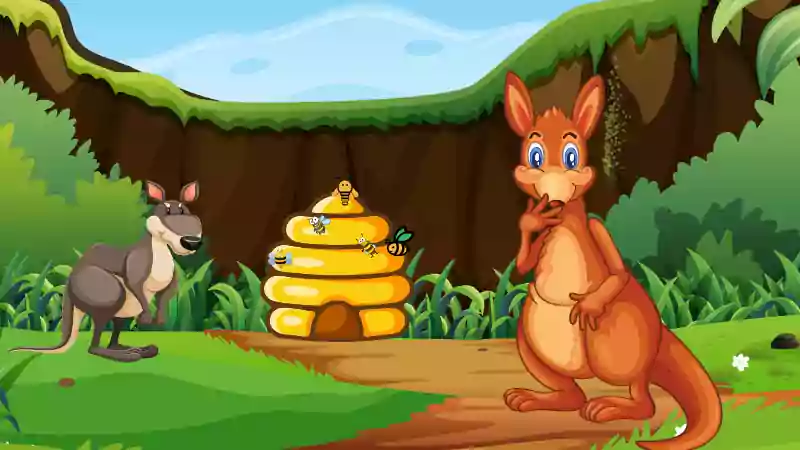 One day, the grey kangaroo really hungry. He started likely to search for some sugar bag by adhering bees to their hives.
The grey kangaroo located the same sugar bag in the hole of a rock. Finally, He put his hand inside the hole and took out a handful of scrumptious sugar bags quickly.
It was very delicious and now the large, brown kangaroo also desired to eat their sugar bag.
The grey kangaroo instructed the brown kangaroo to reach his hand right into the hole to get the sugar bag from the surface.
The brown kangaroo tried as grey kangaroo told but, instead of sugar bag, he pulled out with the handful of spiders.
He attempted again to pull out some sugar bag but only dragged out more spiders.
He was then slightly angry to see that the grey kangaroo was able to reach in with his arms and pulled out so much sugar bag that it was soon all gone as he'd eaten it all.
The brown kangaroo was now angry at the grey kangaroo about being fooled by the grey kangaroo.
He went to a nearby white gum tree and break a stick off. He was going to beat the grey kangaroo!
The grey kangaroo then ran to get a stick from a wood tree for the fight.
Both kangaroos started fighting with each other.
In between, the grey kangaroo emitted a stick at the brown kangaroo. Brown Kangaroo started running away to save from stick but sticks got stuck onto his bottom!
The brown kangaroo was upset and suddenly threw his stick at the grey kangaroo. Stick also got stuck at grey kangaroos base.
Hereafter, they really did not recognize what to do as well as hopped away to their very own residences.
Now when you see a kangaroo, you understand How did the Kangaroo Got their Tails.
Here below is the visual depiction of How did the Kangaroo Got Its Tail Story.
How did the kangaroo get its tail