This is the Two Silly Goats story. Once, There was a dense jungle where two goats were living.
One goat was of Brown colour and the other one was of White colour. They both were very strong but didn't like each other. They didn't want to see each other.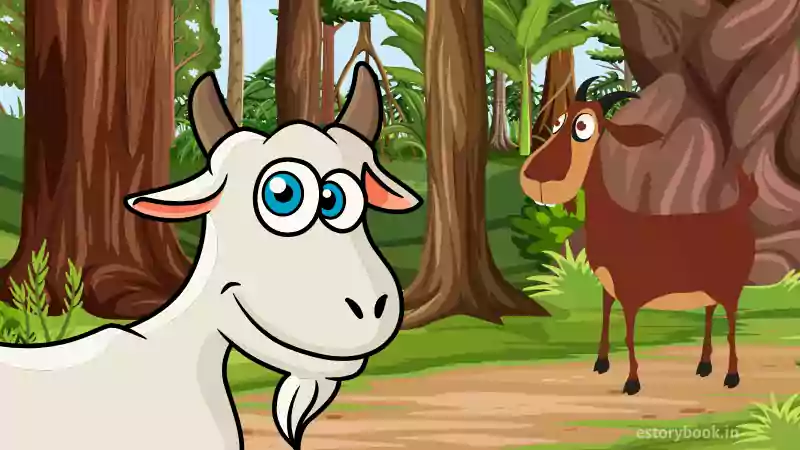 Once they had a big fight and both decided not to come within the territory of each other.
There was also a river that flew in between the forest and all animals used it for drinking and bathing.
Read also Two Cats and Monkey Story
A bridge was built over the river. This is only a way to cross the river which was very narrow that only one animal could cross at a time.
One day, Brown Goat was at one end of the bridge and another one on the other corner of the bridge. They both wanted to cross the river.
They both reached the middle of the bridge. Now Brown and white goats were standing face to face. The bridge was so narrow that no one could cross each other.
The Brown Goat bleated on White Goat and said..
…." Leave my way, Go back!!
The White growled and said angrily..
…."Go out of my way, otherwise I would toss you like a coin in the river"
Two silly Goats were starting an argument and threatening each other. 
After that, both came into the clash and started pushing each other. The bridge was very old and not too strong to handle the weight of both.
A Brown goat pushed the white goat so hard that the bridge broke out.
No one was able to balance and both fell down in the river. Now both Goats were flowing with the stream. They both tried very hard to get out of the river but all were of no use.
Finally! Both two silly goats drowned in the river.
Moral of the Story – Two Silly Goats Story
Anger is people's biggest enemy